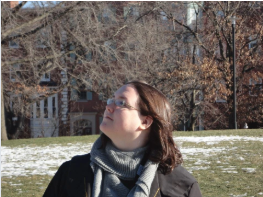 Author: Lauren Sattersby
Lauren Sattersby works as a budget manager by day, but while she's at her desk mindlessly crunching numbers, it's a good bet that she's also writing M/M romance in her head and counting the minutes until she can get home and write it all down. She is a grammar enthusiast, which is why she has a Master's degree in technical writing, but that tends to scare friends away so she keeps that to herself.
Lauren lives in Wisconsin with her partner and their three terrible cats. She's a recent transplant from a thousand miles further south, so she still gets crazy excited about snow. When she isn't writing, she can usually be found playing video games or scouring the countryside looking for interesting birds.
Connect with Lauren:
Website: laurensattersby.com
Facebook: facebook.com/laurensattersby
Twitter: @LaurenSattersby
Tumblr: laurensattersby.tumblr.com
Email: laurensattersby@gmail.com